Lancaster Canal, Woodplumpton to Garstang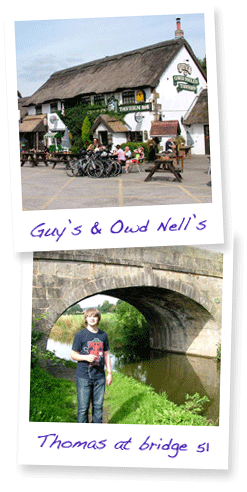 We walked from Woodplumpton to Garstang on Saturday, 4th September 2010. A walk of around 8 miles and our second walk along the Lancaster Canal.

Journey to Woodplumpton

We caught the 10:38am train from Wigan to Preston then walked to the Dog & Partridge Pub on Friargate. We then caught the 11:17am Cumfy Coaches service 82 towards Fleetwood. I explained to the driver where we wanted to go and he was great, he said he would give us a shout when we reached the canal and he dropped us off by the bridge.

Quiet

One thing that surprised us was how quiet it was. Between the starting point and lunch a couple of hours later we only passed one person. The photos show how little the towpath is used, most of it grass with little evidence of a path.

Weather

For September, we couldn't have hoped for nicer weather! Good thing too as we wore our t-shirts and risked not taking any extra clothing or coats.

Lunch

We stopped off at Guy's & Owd Nell's Tavern at Bilsborrow for food and drinks. A hamlet of canal-side thatch roofed buildings, it was a scenic and welcome place to stop. The food was excellent and we would recommend this place for anyone walking this stretch. Around the back of the pub was a cobbled area which felt like you were stepping back in time.

Busy then dead

The canal was "buzzing" by Owd Nell's for a couple of hundred yards or so. Then, all of a sudden it was deadly quiet, we had the canal to ourselves again.

Historic and scenic

As we expected, the walk was very scenic through rural Lancashire. The views were super, only hindered by the odd pylon here and there. We walked over a couple of aqueducts, both designed by John Rennie and both first used in 1797. Over 200 years old and still going strong, serving their purpose well. These will probably be around for another 200 years!

Garstang

Garstang is a small market town steeped in history. It's a quaint and beautiful place with shops, pubs and lots of old buildings. I couldn't resist taking a few photos while I was there. We called into a little shop for ice-creams. We were ready for refreshment, the ice-cream was made at a nearby farm and they were delicious.

Journey home

We caught the Stagecoach bus number 40 back to Preston and it cost us a whopping £7.80. Everyone else on the bus got on for free with their passes, we were the only ones to pay in cash. A short stroll from Preston bus station to the railway station then a 20 minute wait for the train. There were empty seats on the return journey so we could sit down for a change and enjoy the short train journey home.

To sum up, another very enjoyable day with lots to see. This stretch of canal gets better with each and every mile we walk. Can't wait for the next stretch.