Bridgewater Canal, Stockton Heath to Runcorn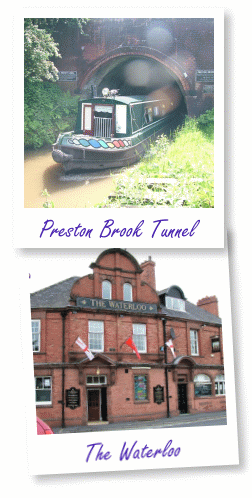 We walked from Stockton Heath to Runcorn on Bank Holiday Monday, 25th May 2009. A walk of just over 11 miles through the beautiful Cheshire countryside.

Journey to Stockton Heath

We travelled to Stockton Heath by a train and then a taxi. The train left Wigan at 9:35am and arrived at Warrington Bank Quay a mere 11 minutes later. We then jumped into a taxi to take us to London Road bridge at Stockton Heath where we finished our last walk. It cost us just over a tenner to get there by 10am which was reasonable.

As good as the last walk

We really enjoyed our last walk through scenic locations and open countryside and this walk was a continuation of that. The whole stretch was a pleasure to walk and the villages of Higher Walton and Moore were great.

Leisure

It was good to see the canal being used by many boaters, walkers and fishermen. The whole stretch was being enjoyed by locals (and not so locals) which made it even more enjoyable.

Preston Brook

The halfway point of our walk was Preston Brook where the canal split. The Bridgewater Canal continued towards Runcorn with an arm heading south towards Northwich and Middlewich (Trent and Mersey Canal). We walked the short stretch to Preston Brook Tunnel which is 1,272 yards long. A sign at the tunnel entrance indicates when boats are allowed to enter, unpowered boats aren't allowed access. When we were at the tunnel, there was a dull noise and smoke coming from the structure so we knew a boat was making its way through. I got a snap of a narrow boat leaving a few moments later. I can imagine this stretch can be a real nightmare for boaters following someone with a smokey engine!

Double back

We doubled back to Preston Brook to continue our walk along the Bridgewater. A new housing estate has been built on the towpath so we had to leave the canal for a few hundred yards. We re-joined at Cawley's bridge and the towpath changed sides. We were still in nice surroundings and passed Norton Priory but unfortunately didn't have time to leave the canal and visit as we were hungry and looking for food!

Butties

Now is the time to tell you! If you're planning on doing this walk, take a packed lunch. I was disappointed with the lack of pubs along the route.

Runcorn

You know when you're leaving the countryside and entering suburbia when a dog walker (minus shirt heavily tattooed) is approaching you with a bull mastiff. We can chat to anyone and stopped to have a natter with this chap. He told us his dog was only 5 months old as he tried to pull on the lead to stop it jumping up at us. Nice chap, nice dog but at 5 months old it was still a pup, who knows what it will grow to!

Two pints of lager...

At Runcorn when the canal came to an abrupt halt, I took a photo of the Waterloo Pub. I later discovered that this is the pub used in the BBC comedy programme "Two Pints of Lager and a packet of crisps". It's been re-branded as the Archer for the telly.

Home

Runcorn station was just around the corner, 5 mins away. Our journey home to Wigan took us via Liverpool Lime Street and took 1½ hours. Two trains, the first one was a Virgin from Runcorn to Liverpool which took a few minutes. The second was from Liverpool to Wigan calling at every stop imaginable on a Northern Fail train including "Thatto Heath". Where the hell is that?

All in all a very enjoyable day out. We had nice weather again and yes, I got burnt again.