Bridgewater Canal, Leigh to Worsley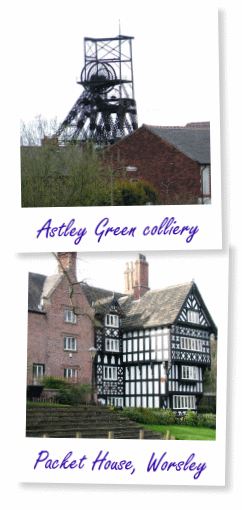 This was our first walk for the website and our first canal walk of 2009. We chose the Bridgewater Canal as it isn't far away from where we live. Also, having walked the Leigh Branch of the Leeds and Liverpool Canal which joins the Bridgewater Canal, it seemed the logical choice.

Daylight robbery and buses

We left Wigan at 1:30pm and caught the 658 bus to Leigh. Less than 2 years ago, this bus journey cost us £1.70. Today, it cost us a whopping £4.50! How's that for inflation? At least Dick Turpin wore a mask, the thieving sods. Apparently the driver charged me for a day saver ticket otherwise the trip would have cost more.

Leigh

We arrived in Leigh at 2pm and made our way to King Street bridge which was only a couple of hundred yards away. The bridge divides the Leeds and Liverpool Canal and the Bridgwater Canal. I remembered walking through Leigh when we did our other canal walk and it wasn't pleasant. Joining the towpath we were greeted with our first eyesore, some dumped cars.

Dump

I make no apologies in saying Leigh isn't a nice place. Most of the mills and chimneys have been demolished and replaced with "executive canalside apartments". Unfortunately there are too many concrete sectioned walls and barbed wire to make the place look desirable.

Out into the countryside

We were soon out of Leigh and into nicer surroundings. Much of the area has been reclaimed from the mining industry and little evidence exists, however, some landscaping work is still taking place.

Astley Green

If a reminder was needed that mining was prominent in the area, Astley Green provides it. The last remaining headgear and engine house in Lancashire is here, being restored and looked after by the Red Rose Steam Society. I took several photos but it was tricky with the sunshine. I did visit some time ago and took photos which can be viewed on another of my websites.

Boats and a dead fox

There wasn't really a lot more to report between Astley Green and Worsley. It was good to see a few boats in use along the way though. One of which was decked out with banners and balloons for someones 40th birthday. A little further on and we saw some kids trying to fish out a dead fox from the canal. One of the lads asked me if he put it around his neck, would I take a photo of him. Not likely. :)

Canal changes colour

As soon as we turned a corner the canal water changed to a brown, rusty colour. This is due to iron ores in Worsley. It came all of a sudden, it wasn't gradual. Take a look at the photos, you'll see what I'm trying to get at.

Worsley

It wasn't long before we reached Worsley but we had to pass under the M60 motorway just before the village. I have to say this place is beautiful. After eyesores and industry it was pleasant to turn a corner and arrive in this scenic area. The whole village is steeped in history, beyond the scope of this website, but if you get the chance to visit you won't be disappointed. The only disappointment with the place was that the Bridgewater Hotel was closed. It looked like such an important and imposing building - it would be a great shame to see it rot away. Hopefully it will re-open soon.

Homeward bound

We left the canal at around 4:30pm (some 2½ hours later) and caught the 33 bus back to Wigan. Remember my earlier rant about paying £4.50? This time it cost us £4.80! That's £9.30 for a return bus journey within Greater Manchester. Tuttled.

Still, musn't grumble. :) Looking forward to the next walk which will involve trains (NorthernFail no doubt).