Bridgewater Canal, Altrincham to Stockton Heath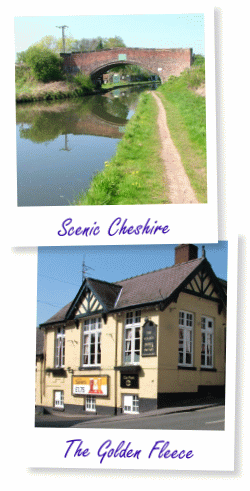 We walked from Altrincham to Stockton Heath on Sunday, 19th April 2009. A walk of around 10 miles through the beautiful Cheshire countryside.

Public Transport

We caught the 10:36am Northern Rail train from Wigan to Navigation Road which was a direct service, without the need to change. At a cost of £4.75 for me and my lad this was cheap enough, however, we still had to stand until we reached Manchester when most of the passengers got off. We finally arrived at Navigation Road at 11:45am.

Memorable

Our last walk was memorable for all the wrong reasons. This walk was memorable for all the right reasons. The whole stretch was beautiful and we were out in the countryside for most of the walk. There were quite a few joggers, cyclists and other walkers too. Boats seemed to pass us all the time, I can't remember a busier section of canal for boaters. All in all a pleasant day with lots to see.

Weather

The weather was superb for April. It felt like July and yes, I got burnt again.

No Geese

Thankfully, we didn't see a single goose along the way. I'm beginning to get a phobia with these things after we were attacked on our last walk. There were plenty of ducks with their young.

Path

The canal towpath kept changing, from wide to narrow, to non-existent. Where the towpath did disappear it was only for a short while but for any cyclists reading, it is do-able.

Late Lunch

We ate late again coming off the canal at Lymm. A nice little place with two pubs by Lymm bridge (Bridge 23). We chose to eat at the Golden Fleece, a nice pub with nice food at very reasonable prices. Call in if you're passing.

Onwards

We were about halfway along our walk and needed to get a move on. We spent too much time in the pub so we called for more bottled water from the village shop and headed on our way. We passed under the M6 motorway and looking across the fields we could see the Thelwall viaduct. It was far enough away so we didn't hear the traffic.

Stockton Heath

We reached our destination at 5:20pm and left at London Road bridge (Bridge 15). I made a 'little' mistake when I printed the maps and planned the route beforehand - we had another 2 mile trek to Warrington Bank Quay station.

Home

We arrived at the station almost an hour later and aching. The train back cost us £3.50 and only took 10 minutes! A proper train, a Virgin Pendolino. We didn't have long to wait and were back in Wigan at 6:45pm. All in all a good day out.