Lancaster Canal, Lancaster to Tewitfield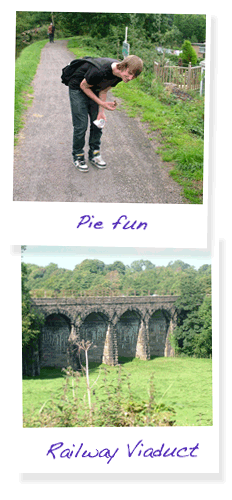 We walked from Lancaster to Tewitfield on Saturday, 8th September 2012. A 12-mile walk, our fourth and last of the Lancaster Canal.

One of the best

This walk was one of the best we've done. Beautiful scenery, magnificent views across open countryside and Morecambe Bay and a nice even towpath for most of the way.

Journey to Lancaster

We left home at around 9am and caught a train from Wigan North Western station at 9:38am. We got off the train at Lancaster half an hour later and had a short stroll to the canal.

Weather

The weather was overcast, grey and a little misty to begin with. Just after lunch, the sun made an appearance and we were once again blessed with great weather. In fact, it was a little too hot after stuffing ourselves with food!

The walk

The 12-mile walk was brilliant, one of our best walks to date. After we left Lancaster the scenery was second to none. The canal was quite busy with boaters, walkers and cyclists all the way to Carnforth. John Rennie was responsible for the aqueducts en-route and a plaque commemorating the fact can be seen near the impressive Lune aqueduct.

Bolton-le-Sands

Lunch time - we came off at Bolton-le-Sands which is basically a street with a pub at each end and a pie shop in the middle. What more could a Wiganer want? We called for a quick drink at the Blue Anchor before making our way to the pie shop. As pie connoissers, nothing could have prepared us for Pott's Pies! We both had a chunky steak pie which cost £2.90 each, not cheap. They were delicious, the best pies ever and worth every penny. If you're walking this stretch I urge you to call in.

More food

After eating our pies we came across a gate on the towpath which led to the Royal Hotel. Greedy? We called in for more food but chose a snack each rather than a meal. As can be seen on the photos, the sandwich turned out to be a meal! Again, food and service was excellent. To be honest, I think we made a mistake by eating so much food so early into the walk. We struggled with the rest of the walk as we were full, I needed a nap, not another few miles in the now blazing sun. To make matters worse, the nice and gentle towpath disappeared near Carnforth and we were walking on grass.

Tewitfield

We reached Tewitfield, the end of the navigable canal at around 4:15pm. It was a shame to see the canal suddenly come to a dead end. We were greeted by the Longlands Hotel where I had a welcome pint and my son had a pint of coke before making our way (about 30 feet) to the bus stop.

Journey home

The 16:42 bus didn't show, great. The next bus to Lancaster was at 19:42. After pondering for a few minutes in the middle of nowhere, well, apart from the pub, a taxi appeared. Luck was on our side again. The driver re-iterated this when he told us there were only 5 taxis in Carnforth and for us to spot one in Tewitfield was very lucky indeed. It cost us £17.40 to get to the station in Lancaster and if truth be known I'd have paid double that! We were shattered. The Virgin train was on time and we arrived back in Wigan at around 6:10pm. Another great day out and a little sad to have finished... Wonder where our next trip will take us?